Wonder General Manager Mr.Pololuo shared about carton digital printing technology
This first show after the epidemic, the final exhibition effect was beyond expectations. On the first day of the exhibition, all 4 units/sets of equipment and 4 exhibitors in Wonder's booth were sold, and until the end of the exhibition period before the exhibition hall closed, Wonder still signing new order contract.
So, what attracts them so much enthusiasm for placing orders? Let's take a look at the special features of all Wonder printers.
一、WDR200-120A High-speed digital printing and slotting linkage line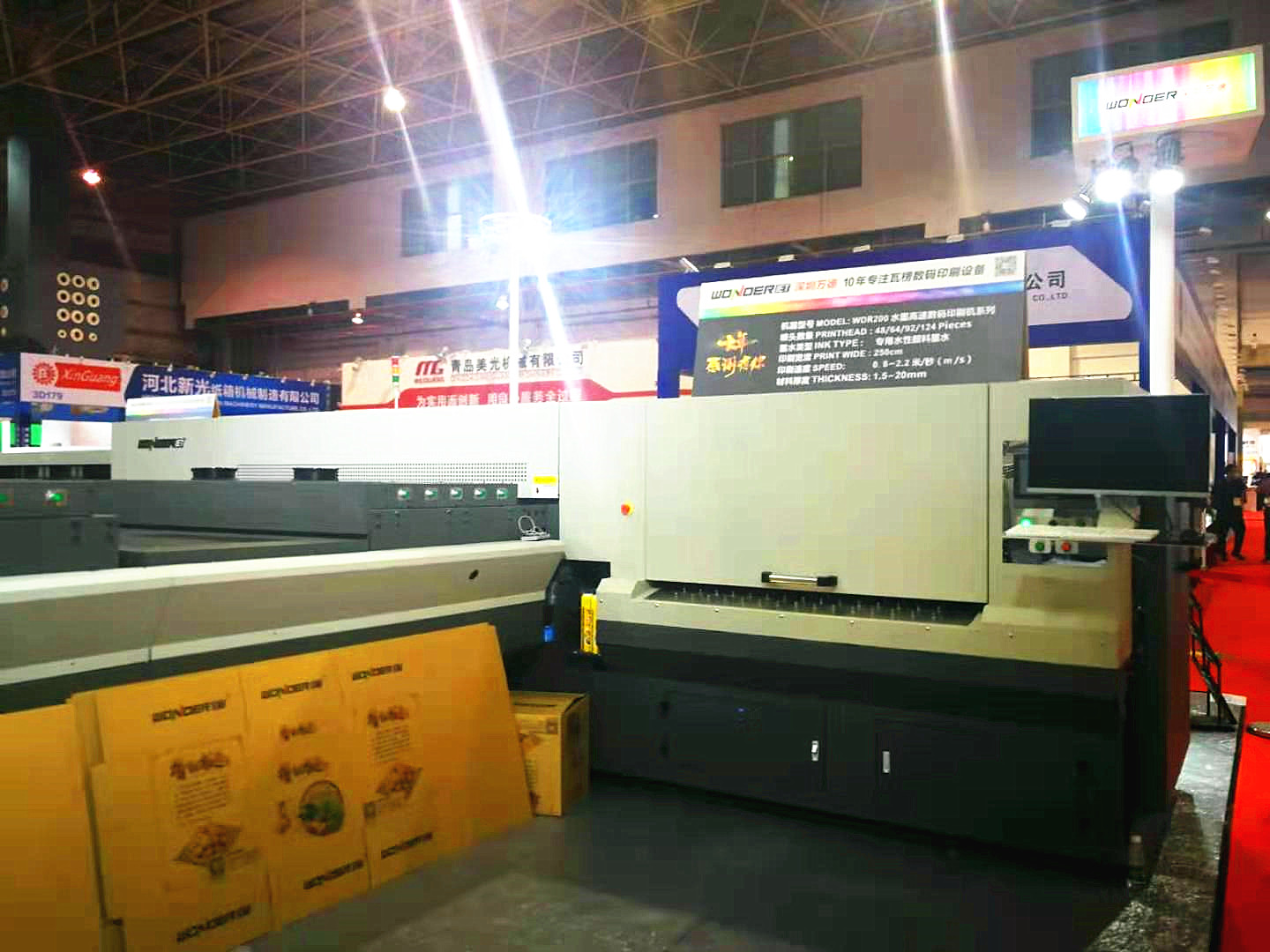 The most eye-catching product on the exhibition is the WDR200-120A Single Pass high-speed digital printing andslotting linkage line. This is the first time that it has been displayed in conjunction with the entire machine, and it shines on the scene! This 25-meter-long linked production line includes: single pass digital printing unit↔drying unit↔glazing unit↔drying unit↔high-speed slotting↔automatic receiving and unloading unit.

The high-speed slotting machine in the linkage line was launched for the first time at this exhibition. This high-speed slotting machine can be operated as a stand-alone machine or can be linked to all high- and medium-speed digital printing equipment of Wonder. It has two original slotting knives, unlimited box height; Line depth linear adjustment mechanism, and does not affect the feeding and slotting accuracy, the minimum box width can reach 35mm, standard boxes, furniture boxes and other large-size cartons can be solved by one machine; the fastest slotting speed is 120 pieces/min, and the servo pressure can be customized to increase Line function, be favored by customers.
The digital printing host system in the linkage line, WDR200 industrial-grade SINGLE PASS high-speed corrugated digital printing machine, has been technologically improved and upgraded on the basis of the original ordinary corrugated ink printing, using industrial-grade inkjet print heads, with high precision and good results. The speed is fast, the printing speed is up to 2.2 m/s at 600*200dpi, and the actual production capacity is 3600~12000 sheets per hour, which is comparable to traditional high-definition ink printing.
Optional matched systems:
Variable data: efficient and seamless order change, multiple orders can be printed continuously without stopping;
Newly added ink circulation system, production is more environmentally friendly, and waste ink consumption is close to zero;
The automatic feeding system of SUN AUTOMATION adopts the latest leading edge paper feeding technology, which is more stable, and the printing thickness of the material can be as thin as 1mm;
Fully automatic receiving and stacking system, automatic pat and stack neatly, saving labor;
Connected fast drying system, in addition to printing common yellow and white cardboard, can adapt to more printing materials to meet the different needs of customers for printing;
After fast printing and drying, the varnish is connected to the connection, while maintaining fast printing and colorful colors, it can achieve a comprehensive waterproof effect;
Fully automatic high-speed slotting die cutting machine, the size of the connected equipment can be customized.
二、WD200-32A+ Single Pass medium-speed series digital printer
WD200-32A+ Single Pass medium-speed series digital printing machine, with a reference accuracy of 600dpi, and the fastest printing speed up to 1.8 m/s, the most cost-effective among similar products! In addition, the WDSF250/WDSF310 dual-servo high-speed slotting machine can also be linked, and many customers have placed orders on the spot!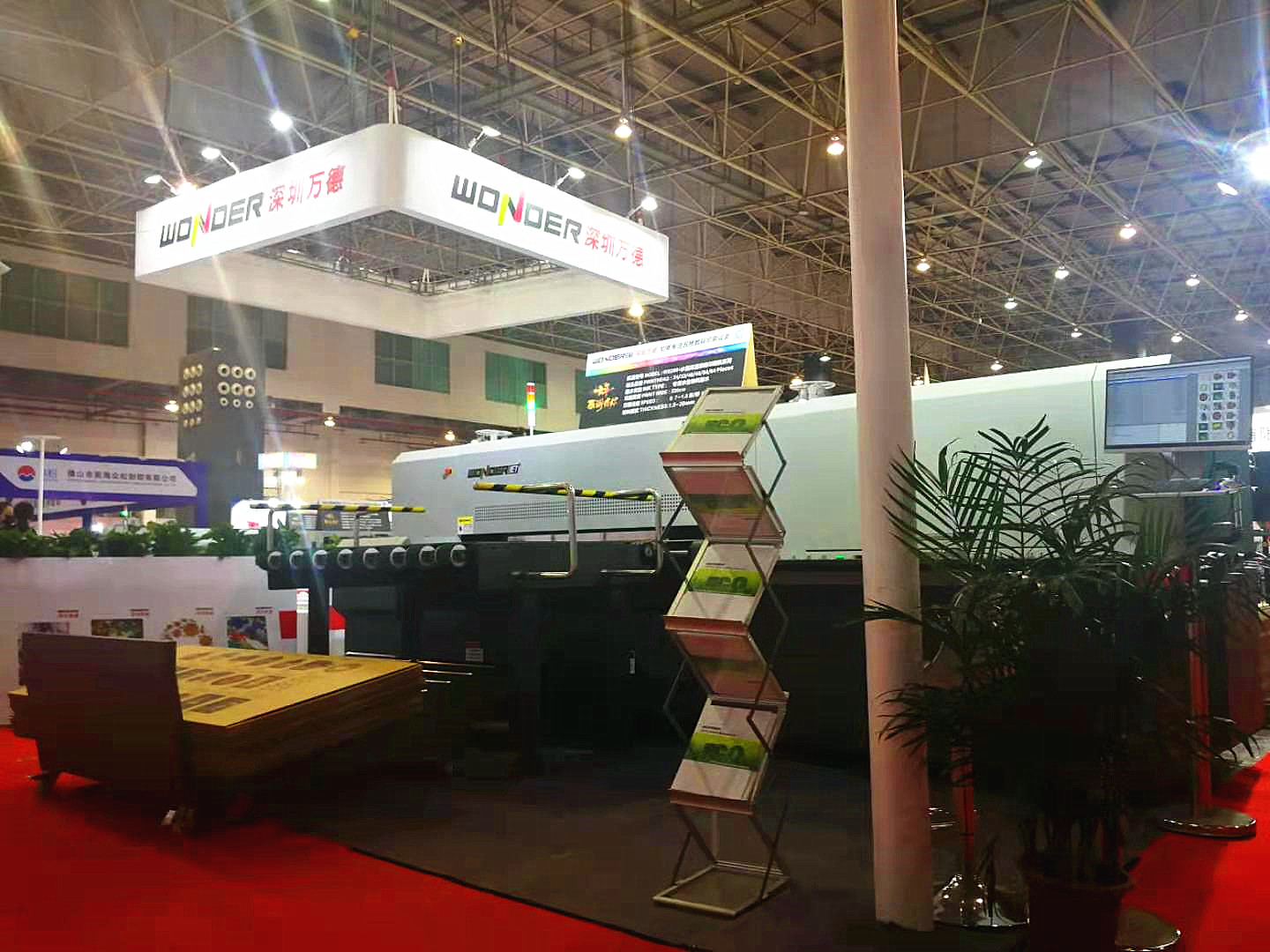 三、WDUV250-12A+ heady-body UV colorful scanning digital printer
After seeing a lot of ink digital printing, let's take a look at the printing effect of UV color ink. The colors are bright, exquisite and vivid. Just looking at the packaging is enough to make people impulsive to buy products.
WDUV250-12A+ heady-body UV colorful scanning digital printer, basic accuracy above 360*600dpi, using UV curing ink, CMYK+W five-color printing mode, colorful and waterproof, brand new Ricoh industrial-grade print head, the fastest printing speed It can reach 520㎡/H, which is especially suitable for small and medium batch orders with exquisite printing effect.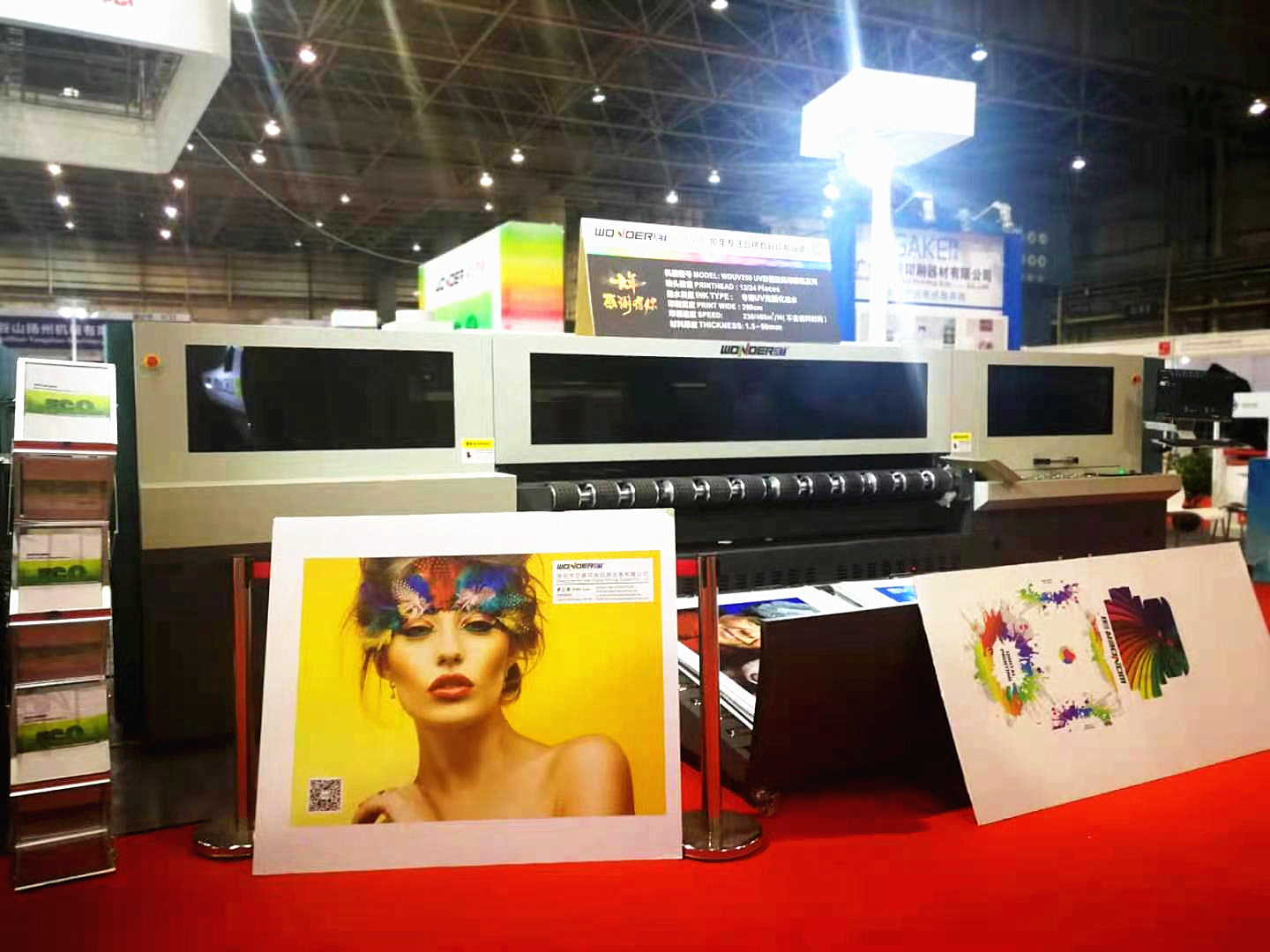 四、WD250-8A+ high quality water-based scanning digital printer
Next is Wonder's hot-selling entry-level model, WD250-8A+, a light and high-quality wide-format ink scanner. The upgrade adopts a new ink nozzle in cooperation with Epson, each nozzle has 3,200 nozzles, small ink dots, high precision, and the fastest printing speed can reach 520 square meters/hour. Compared with similar digital printing machines, under the same printing level , The price of the whole machine is only half, worthy of the name of the king of scattered orders, and the king of cost performance!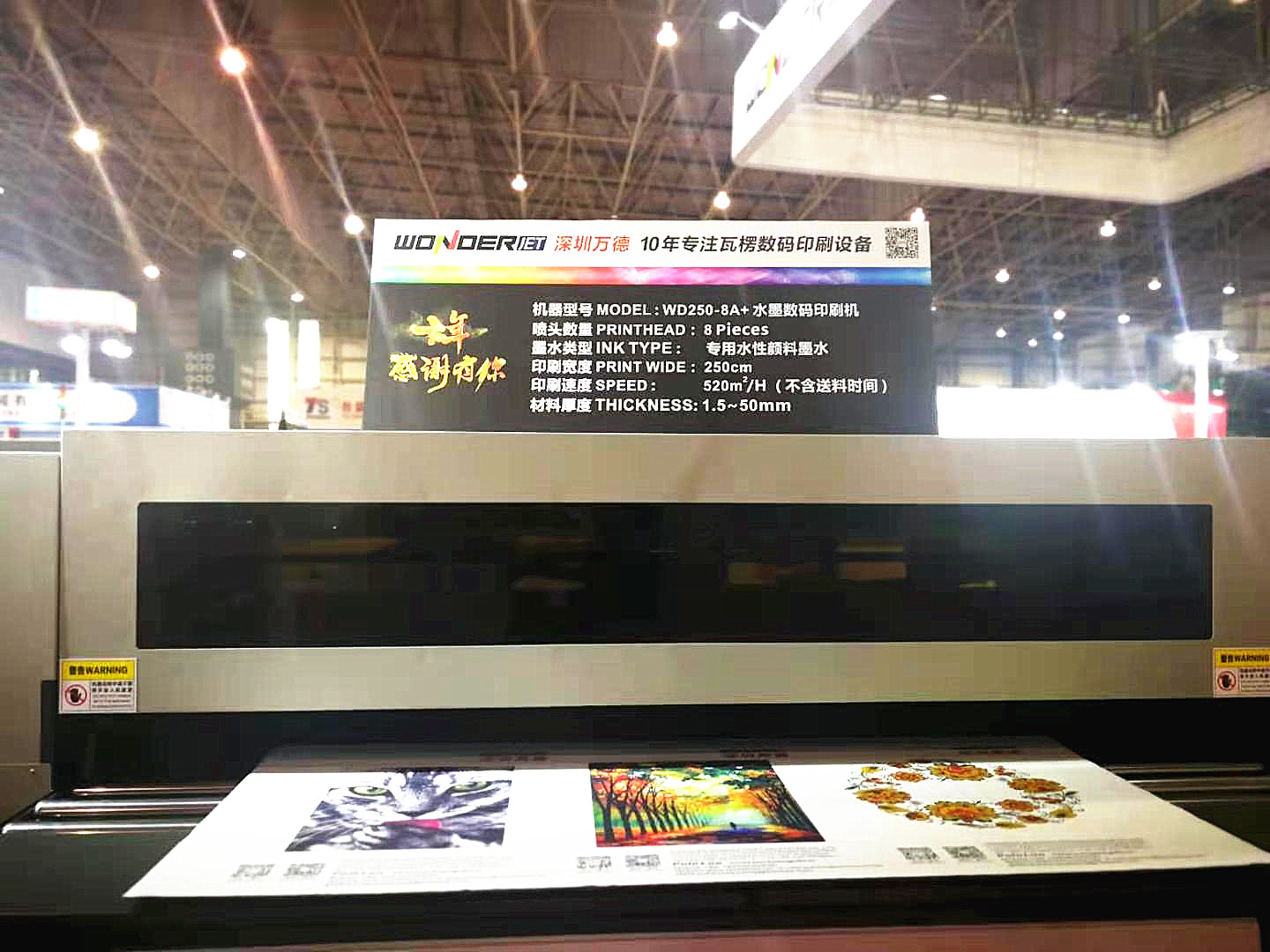 五、Industrial-grade Single Pass high-speed digital pre-printing linkage line
Finally, Wonder's heavy new product introduction: Industrial-grade Single Pass high-speed digital pre-printing linkage line, let us see the video:
At present, there are only a handful of known digital pre-printing equipment in the world. Wonder's first roll-to-roll high-speed pre-printing machine has been in normal operation for more than half a year in the customer's factory, with a daily output of about 200,000 square meters, and subsequent customized equipment is also in production.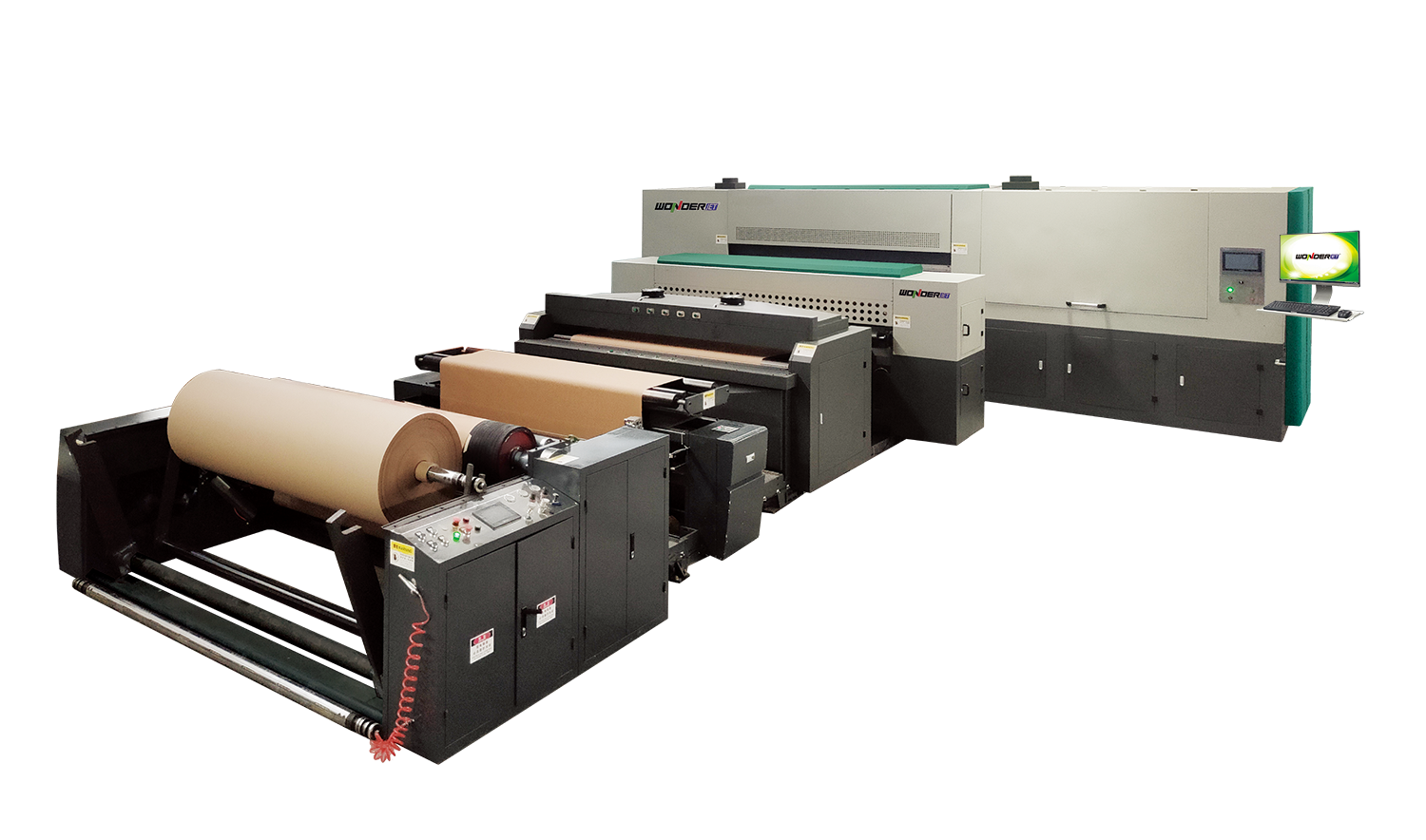 Wonder pre-printing machine is divided into: WDR200 series digital pre-printing machine uses water-based/UV ink inkjet printing, CMYK four-color printing mode; WDUV200 series uses UV color printing ink, can choose CMYK+W five-color printing mode; the fastest line speed 108 M/min, the width of the material can be customized from 1600mm to 2200mm, connected to the drying system, varnishing system and roll-to-roll automatic feeding system and other equipment, the reference accuracy is 600 lines, 900 lines/1200 lines can be customized, It can reach up to 210 meters per minute, which can achieve printing quality that surpasses flexographic printing and is comparable to offset printing.
At the same time, the application of variable data technology in Wonder Pre-printing connection realizes the roll paper pre-printing production method of "centralized printing, dispersed into boxes", which has more advantages than post-printing. The inline production speed is fast, without stopping the machine, seamlessly changing orders, it can run continuously for 24 hours, the roll paper is smooth and without loss, which greatly improves the production quality and efficiency, and reduces the time and loss cost.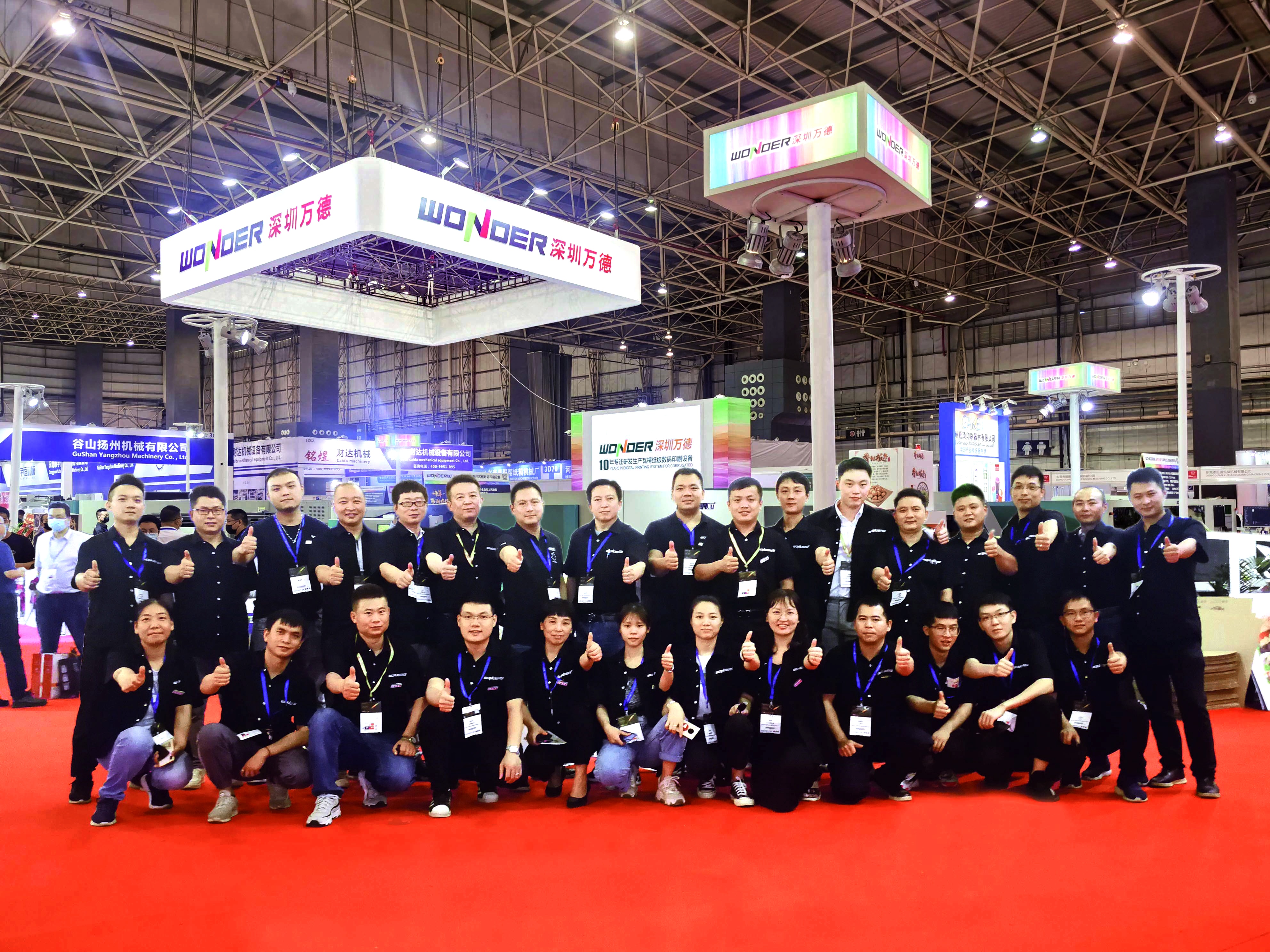 Wonder's full digital printers are perfectly matched, whether pre-printing and post-printing, large orders, high-definition watermarks or exquisite color printing, we have what you need. Digital printing makes packaging printing more convenient and efficient, helping packaging companies to accelerate transformation , Keep up with the pace of development of the times.